Breaking Old Habits | Grayson Russell for The Sumter Item
HOMELESSNESS IN SUMTER
Breaking old habits
Ministries help man working to turn life around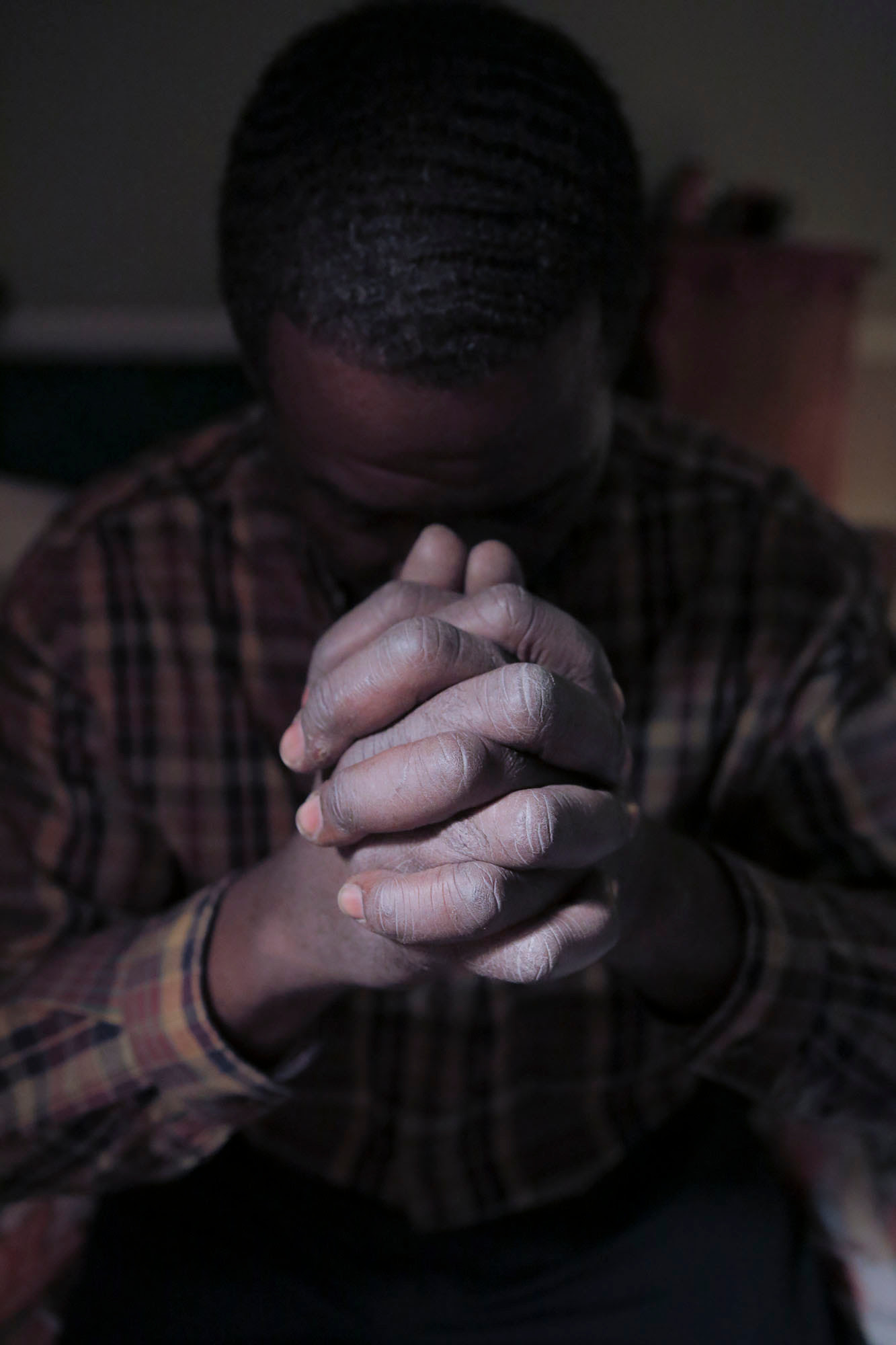 Anthony Gordon used his hands to beat people to get what he wanted when he was young. Now he uses them to pray and work his way out of homelessness.
KEITH GEDAMKE / THE SUMTER ITEM
Posted Sunday, January 11, 2015 6:00 am
Editor's Note: This is the first in a series of articles about the homeless in Sumter.
From a certain window on West Oakland Avenue, one can see the boarded up doors and fa ade of an abandoned home. In the early mornings and late evenings, the shadows of vagrants and those fallen on ill-luck are seen coming and going in the winter twilight. No one knows their stories or why they are there, only that it is cold and, with nowhere else to go, for them, this is home.
Across the street, the story is not much different for Anthony Gordon*. He is homeless, too, but he boards with a small group of men who are actively trying to overcome their past and present circumstances so that they can move forward in life. Gordon has heat, running water, plenty of food and a warm bed. At the age of 51 and newly released from prison, he sees this as the final chance in his life.
Growing up in Brooklyn, Gordon learned to street fight at an early age. While harmless in the beginning, it soon precipitated into habit, a muscle memory of swift and often direct violence.
"I don't know how many dudes I fought back in those days. Too many; not enough," he says. About the same time, and with other misguided neighborhood children, they banded to burglarize factories and stores, and to fight off rival block gangs with homemade nunchucks, pieces of chain and baseball bats.
By the time he was 26, in college, and with his first-born son at home, he drifted into cocaine use he said he used to study and stay awake. He switched from burglary and street fighting to forging documents and DJing in nightclubs during the early years of hip-hop.
As to his cocaine use, he says, "I worked it for a while, but it wasn't long before it started working me."
That was 25 years ago.
Gordon, now on parole and working full time, looks back on those years running with dope pushers as a time he is now trying to buy back for himself. In 2005, he left a job in Alabama and came to aid his ailing mother who lived in Bishopville. She passed not long after and Gordon took over the family home.
Things were going good and steady. But, somewhere in the midst of this he got caught up with a young street girl and old habits and violence.
One cold January night something slipped and Gordon reacted. A drunken friend of the young street girl had come by the house where Gordon, the girl and her mother were sitting around talking and drinking. When the uninvited guest was asked to leave, Gordon said the man became belligerent.
The girl, her mother and Gordon asked him to go.
Then Gordon snapped.
"… I took a shot of vodka and the thought came to my mind to cut this dude's throat," Gordon said.
After cutting his throat, the guy ran and Gordon left. He went to a bootlegger in the neighborhood and tried to get a drink on credit because he knew he was going to jail. By the time he realized he was still carrying the bloody razor blade, the cops had him.
The girl had talked, but the victim never pressed charges. The state did, and Gordon served nine months in county jail before he was convicted of first-degree assault non-violent after a plea down from attempted murder. He then served 18 months at Palmer Correctional facility in Florence.
During the interim, his mother's house was foreclosed. When he got out, he had nowhere to go. His family didn't want the headache, and he didn't have any friends that were "good enough" to put him up.
The corrections office sent him back to Bishopville via Greyhound after finding out all the shelters in Florence were full. He got drunk that night and most of the following weekend. When he got back to Sumter he was taken in by the Samaritan House. For the next six weeks he looked for work, amended his r sum and drank the remainder of his days under the gazebo at Volunteer Park. When his time at the Samaritan House came to an end, he was given a referral to the "510 house," as it is called, a long-term shelter organized by Sumter Mission Outreach located at 510 W. Oakland Ave. The day he moved in he passed his first drug screen and was hired by a local business.
In the last year, Gordon has paid off more than half his parole fees. He sends his daughter money when he can and maintains a close relationship with her. His short-term goal is to be on his feet by April. The thought of getting his driver's license back excites him as much as it did when he was 16.
He doesn't fear falling back into old ways, he says.
"I've had to forgive myself for some of the things I've done and hope that others have, too," he said. "I don't have much time to make most of it right, but this is a start. It's a daily fight and struggle. Each week you hope and pray you are stronger than the last week. But by having faith, you know there is a better outcome than before."
Gordon is one of the 100 or so of the homeless in Sumter County. The Sumter United Ministries Emergency Shelter, formerly known as the Samaritan House, can hold as many as 20 men and eight women for a period of 30 days, unless individuals are granted an extension.
If the temperature drops below 32, Jehovah Missionary Baptist provides additional short-term services.
The United Ministries estimates the other Sumter homeless are holding up in the woods, in abandoned houses, under bridges and, in some cases, transient camps outside the city.
The number varies depending on whom you talk to. The last known census was 68. But the Bread of Life breakfast ministry at Mount Pisgah AME Church serves an average of 45 plates a day, seven days a week. Emmanuel United Methodist's Soup Kitchen serves 50-60, six days a week.
Other ministries such, as First Baptist Missionary, organize a luncheon every second Sunday of the month. They give toiletry bags – soap, toothbrushes, deodorant, hand sanitizer, socks and gloves and scarves during winter. Churches such as Alice Drive Baptist and Crosspoint Baptist donate both monetarily and physically.
Organizers hope that as the demographic becomes better known, the outreach ministries will evolve into a collective vision that can encompass and meet the needs of those who have fallen upon difficult times.
For Anthony Gordon, these ministries have not only saved him, but also given him a second chance.
* The Sumter Item changed the name to Anthony Gordon for this story to protect his identity.
*Reprinted with author's permission, Grayson Russell.